ADL Outraged by Anti-Semitic Hate Crimes Targeting the North Miami Beach Jewish Community and the Heinous Murder of Rabbi Joseph Raksin, z"l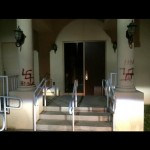 To read the ADL and community statement "South Florida Jewish Community Joins Together to Ensure Safety and Security" in the aftermath of the horrific murder of Rabbi Joseph Raksin, z"l, click here.
To read about the security training ADL provided to the North Miami Beach Jewish Community in response to the murder of Rabbi Raksin, click here.
The Anti-Defamation League (ADL) is outraged by two separate anti-Semitic hate crimes, both in the form of hateful vandalism, that desecrated Congregation Torah V'Emunah in North Miami Beach and a Jewish family's cars in Miami Beach over the last two days. Against the backdrop of the ongoing violence between the terrorist group Hamas and Israel, Jewish communities worldwide remain on heightened security alert and are exercising increased vigilance.
Congregation Torah V'Emunah, an Orthodox synagogue within close proximity to other synagogues was spray-painted with the word "Hamas" and images of swastikas on the columns that frame its front entrance – a location potentially selected for high visibility and greater impact.
A Jewish family discovered that their two cars were completely canvassed. One car was covered from top to bottom with eggs; the other had the word "Jew" smeared in cream cheese on the side window, and the back window had the word "Hamas" smeared in cream cheese.  The family's cars both have Jewish-identifiable bumper stickers. To see ADL Florida Regional Director Hava Holzhauer's statement, scroll below.
Hava Holzhauer, ADL Florida Regional Director, issued the following statement:
"The Anti-Defamation League is outraged and condemns the two anti-Semitic hate crimes that have shaken not just the Jewish community, but the community at large.  In the context of the extreme escalation of violence between Israel and Hamas, Jews around the world are exercising increased vigilance. 
While we are saddened by these two horrific incidents of anti-Semitic vandalism that have hit so close to home, we are encouraged by the thorough and serious investigations being conducted by local law enforcement to apprehend the perpetrators.  ADL has been in touch with the Jewish family and Rabbi Bensinger of Congregation Torah V'Emunah to offer our support and assistance.
In recent weeks, synagogues have been targeted in France, Italy and Germany and calls to kill Jews have been made at anti-Israel demonstrations. Anti-Semitic signs have appeared at anti-Israel protests in Argentina, Bolivia and Chile and even in Miami and Ft. Lauderdale. Despite the daily tragedies in the Middle East, anti-Semitism is never justified. 
It is our hope that local South Florida community leaders will join the Anti-Defamation League to condemn this local expression of anti-Semitic hate right here in our backyard.  You can be proud of your local law enforcement agencies that have gone above and beyond the call of duty. In response to the desecration of Congregation Torah V'Emunah, North Miami Beach Police Department is assisting Miami-Dade Police Department in stepping up patrols around Jewish institutions in the area.  And in an act of kindness, the Miami Beach Police Department cleaned the Jewish family's cars on Saturday morning as the family observes the Sabbath, and was therefore restricted from such activity on that day."
A core part of ADL's mission is its commitment to Jewish institutional security, and educating synagogues, Jewish schools and agencies to integrate security into their culture 24/7, 365 days a year.
The Anti-Defamation League regularly distributes security materials to houses of worship, which are also available through ADL's web site. While these manuals include examples of security awareness issues within Jewish institutions, the security information is applicable to all institutions, regardless of religious denomination.
ADL also provides annual security conferences for Jewish institutions in South Florida that assist clergy, other professionals and lay leaders directly responsible for assessing, developing, implementing and evaluating security policies and procedures.
ADL in the News