The Anti-Defamation League is now accepting nominations and applications for the 2015-16 class of the Glass Leadership Institute (GLI). GLI is a ten-month prestigious leadership development program designed to educate and engage professionals about the crucial work of ADL. It is designed to empower participants to become the ADL's next generation of leaders. ADL Florida has GLI groups that meet in Boca Raton and West Palm Beach, beginning in October 2015.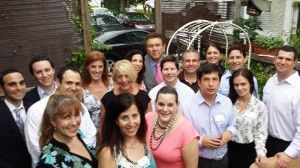 Participants attend monthly sessions from September – June that explore matters on the forefront of the ADL's agenda, including:
ADL & Law Enforcement: A 2-Way Partnership
International Affairs & Israel Advocacy: Affecting Change Around the World
Preventing and Countering Prejudice in Schools
ADL Policy and Advocacy: Our Individual and Collective Voices
ADL and the Law: Strengthening Civil Rights While Combating Extremism
Participants are also expected to attend the Glass National Leadership Conference, held in Washington DC in May. 
To apply:
Read through the 2015-2016 GLI Florida Expectations & Responsibilities, view the GLI 2015-2016 Calendar, and the fill out the 2015-2016 GLI Florida Application. The application can be submitted online, or sent to ADL FL Associate Regional Director Eric Ross at eross@adl.org or Lonny Wilk at lwilk@adl.org, or by fax to 561-989-0712.