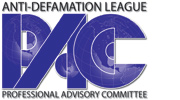 The mission of the Professional Advisory Committee is to:
Assist in educating interested professionals and their clients about the importance of ADL its mission.
Assist in educating interested professionals from various disciplines about planned giving vehicles and developments within the field.
Encourage planned charitable giving by highlighting the increased effectiveness of such gifts and their utility to the donor.
Facilitate networking, professional development and resource sharing among interested individuals through seminars, workshops and meetings.
To become a member of the ADL Professional Advisory Committee in Florida,
please contact the ADL Florida Office: (561) 988 – 2900 or contact us.
_____________________________________________________________________________
The Anti-Defamation League's
PROFESSIONAL ADVISORY COMMITTEE
And Chair Jonathan D. Greene 
Would like to thank the 2016-2017 Sponsors
CORPORATE SPONSORS
Robert Child at Child Group Wealth Management
Michael Shapiro at Morgan Stanley
Sue Wandersman & Scott Berger at Kaufman Rossin & Co., P.A.
Mark Smith & David Ogman at UBS Financial Services
James B. Silver & Christina A. Karas at Wells Fargo Advisors, LLC
PREMIER PAC SPONSORS
Evan Glassman at Advanced Insurance
Jonathan Greene
The Law Offices of Adam Bankier
Brad H. Milhauser at Milhauser Law Firm P.L.
Alan Rosenthal at Redgrave & Rosenthal LLP
Philip Landau at Shraiberg Ferrara Landau P.A.
Thomas Kaplan & Daniel Levine, Kaplan, Krauss, and Levine Life Insurance & Estate Planning
PAC SPONSORS
Mark R. Gold CPA at CBIZ HMH LLC
Dr. Leonard Edelman
Daniel T. Fleischer at FL Trusts & Estate Law Firm
Michael Geringer at The Geringer Group
Stuart Rader at Rader & Coleman, P.L.
Elizabeth A. Dunn, CPA, P.A., Tax Solutions Group
Seth Ellis at Tripp Scott, P.A.
Steven W. Fenyves at Valued Wealth Management
Adam Workman at Wells Fargo Advisors
For more information please contact  ADL Associate Regional Director Eric Ross at (561) 988-2944 or eross@adl.org.