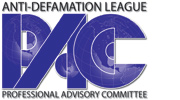 The mission of the Professional Advisory Committee is to:
Assist in educating interested professionals and their clients about the importance of ADL its mission.
Assist in educating interested professionals from various disciplines about planned giving vehicles and developments within the field.
Encourage planned charitable giving by highlighting the increased effectiveness of such gifts and their utility to the donor.
Facilitate networking, professional development and resource sharing among interested individuals through seminars, workshops and meetings.
To become a member of the ADL Professional Advisory Committee in Florida, please contact the ADL Florida Office: (561) 988 – 2900 or contact us.